The footage actually shows a tornado and is more than a year old.
A young man scored a massive video hit on Facebook by taking old footage from YouTube and claiming it shows devastation from Hurricane Irma. His video has been viewed more than 19 million times:
Hendry Moya Duran's comment on the video falsely claims that the footage shows Hurricane Irma inflicting damage on Antigua and Barbuda. His post has generated over 631,00 shares and fooled at least one professional meteorologist.
Duran did not immediately respond to a request for comment from BuzzFeed News.
The footage he used has actually been online for more than a year, and most video captions claim that it shows a tornado hitting Uruguay in 2016. What's absolutely for certain is that it is not footage of Hurricane Irma.
Some of the most recent comments on the YouTube video are from people who found it as a result of trying to figure out if Duran's viral Facebook video was real. "Shoutout to everyone who found the 'Irma' video," reads one comment.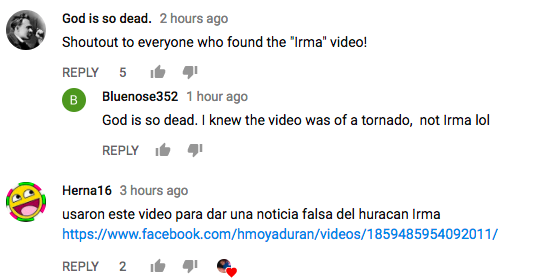 ---
(Visited 3 times, 1 visits today)